MannaWars
A downloadable game for Windows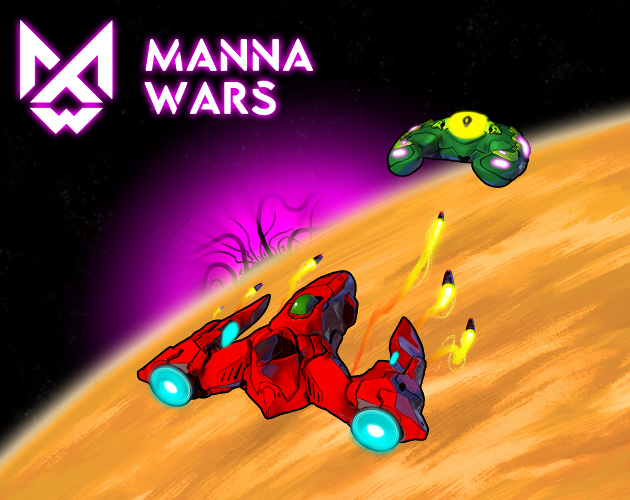 MannaWars is a fast arcade multiplayer space shooter for Windows only, set in a universe ruled by angry gods. Partake in the grand tournament the gods have created, after ripping all inhabited planets in half.

Fight for mankind's survival in various game modes, such as deathmatch, team deathmatch, last man standing and diplomatic rescue!
Find the best combination of ship, weapon, shield and items! Blast your enemies with lasers, rockets, railguns, and much more! Drop proximity mines, use the teleporter to surprise your opponents, or just use the thumper to get them out of your way!
This is both an online multiplayer game, as well as a single player game.
Death Match: fight online against other players, or single player against bots
Team Death Match: fight together, can be played both online or single player against bots
Last Man Standing: if you survive you win the round, available online and against bots
Diplomatic Rescue: online vs other players only, help the target ship reach its destination!
Speed Run: single player mode, with a global score board. Become the best of the best by setting the fastest time for various levels!
Currently there's one official server running in EUROPE, very close to the AMSIX in Amsterdam so very low latency for a large group of people (unfortunately not yet every body, but if there's demand, new servers will pop up!)
Requirements

OpenGL 3.3 or up, any recently modern video card will be able to run the game.
The game requires being started through the Itch application, since your itch account is linked to the game's account.
Requires Windows 7 or 10. Untested on anything else, nor guaranteed to work. You need a 64-bits version of Windows.
Editor

The (currently limited) level editor shipped with the game is NOT officially supported, although I'm happy to help out when you run into trouble with it!
Purchase
In order to download this game you must purchase it at or above the minimum price of $3.99 USD. You will get access to the following files:
mannawars-windows.zip
114 MB